METAL / CLEAR / CERAMIC BRACES/ ORTHODONTICS IN CELINA / PROSPER, TX
Children / Teen Dental Cleanings and Orthodontic Adjustments in One Easy Appointment After School Hours
Add a header to begin generating the table of contents
Why Would I Choose Metal / Clear Braces Vs. Clear Orthodontic Trays?
The Top 3 Reasons for Choosing Traditional Braces Over Clear Orthodontic Trays Are:
"Set it and Forget It" – This tried-and-true concept applies to Traditional Orthodontics when it comes to looking for your teen child's best outcome in the minimum amount of time without making your child worry about where their trays are or progress checks on their own.
 Provider-based Results – This is due to the fact that much more of the outcome is placed in the dentist's hands when brackets and wires are placed in the mouth for 24 hours a day until the next visit. 
Your teen has excellent Oral Hygiene – if your teen gets multiple raving reviews from the dental hygienist or Dr. Rouse at their dental check-ups, taking care of traditional braces should be a natural extension of that care and attention.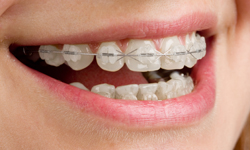 Ceramic (clear) braces are made of clear materials and are therefore less visible on your teeth than metal braces. For this reason, ceramic braces are used mainly on older teenagers and adult patients who have cosmetic concerns. While they are visually less prominent, they do require more attention to oral hygiene as ceramic braces are larger and are more brittle than their metal counterparts. For these reasons, ceramic braces tend to be used more on upper front teeth than on lower teeth.
Traditional (Metal) Braces
Traditional metal braces are the most common type of braces and are more comfortable today than ever before. Made of high-grade stainless steel, metal braces straighten your teeth using metal brackets and archwires. With metal braces, you have the option of adding colored elastics (rubber bands) for a more unique and colorful smile.
What Makes Open Late Orthodontics A Better Choice For My Teen's Braces?
#1: A Name You Can Trust!
We Maximize Your Insurance Benefits and Offer 3rd Party Financing Options to Streamline Financial Barriers
We offer Virtual and In-House Orthodontic Consults For Your Teen
Photos can be submitted and Finances Discussed After Your Video Conference with Dr. Rouse. That way, when you arrive, all you need to do is be scanned and you are ready to start the process. It's just that simple.
Our hospitality will put as big of a smile on your face as your finished orthodontic result.
From the moment you start the process, a friendly Celina face will always be there to answer your questions about treatment and guide you through the process of transforming your smile.
Using our In-House 3D Scanner we have our Orthodontic Lab do the hard part and make Indirect Bonding Trays (SHOWN BELOW) to help SAVE YOU TIME in the Dental Chair by Customizing the Location of Each Bracket Precisely in the Orthodontic Lab instead of "Eye-Balling it" on the Day of Bracket Placement while you are in the chair.
Our patient rewards program was created as a way to recognize all of your Teen's Hard Work by awarding them with fantastic rewards as you progress along your orthodontic journey.
Your Teen May Redeem Great Prizes on our Rewards Website for as little as 100 points by Doing the Following:
Checking In on Facebook at their Periodic Ortho Appointments,
Wearing Our T-Shirt to Their School and Posting a Picture Tagging Our Office
The Program is easy and FUN!
All you have to do is bring your card to your appointment, ask a team member to swipe it, and watch the points pile up!
 Having excellent oral hygiene
Getting great grades
Referring a friend
Seeing us for a dental cleaning
Your reward points will grow as you continue throughout your orthodontic journey! Thanks for your Cooperation and Hard Work!
Small-Town CELINA CONVENIENCE
Have issues along the way? We are right next door, Celina Neighbor! If you kiddo has a wire that pokes or a bracket that breaks while eating, we can get you in.
Big-City TECHNOLOGY in Your Back Yard
In addition to our 3D Scanner and 3D Imaging Unit, we Now Offer Virtual Consultations for You or Your Teen! Q&A Regarding Treatment and Finances Can Be Handled Over a Simple Conference Call Before You Ever Step Foot in Our Office!
Life With Braces: Day 1...
Clear and Metal Brackets Orthodontics Foods to Avoid
Oral Hygiene Instructions With Braces
What is a Broken Bracket?
How Do I Fix a Wire That is Poking My Gums or Cheek?
Clear and Metal Brackets Orthodontics F.A.Q.'s
What is the difference in time for Braces vs. Clear Trays?
Depending on the treatment goals, the total treatment time can be very comparable if all instructions are followed, along with at-home care.
What can I eat with Braces on?
Please see our image below the F.A.Q. Section on this page as it lists all the foods needed to avoid broken brackets. Please call with additional questions.
What is like after you get braces on?
Braces done with our indirect bonding trays takes less time than conventional placement with a measurement device while you are in the chair. However, patients are still being subjected to brackets and wires after they leave the office.
That is why we recommend some type of pain alleviation with Advil/Motrin/NSAID's for the first few days after braces are put on.
It will get easier as your mouth gets used to the braces and using orthodontic wax for anything that pokes, massaging your gums with an electric or manual tooth brush, and sticking to a soft diet for the first few days is the secret to your success.
What color rubber bands do you have?
It is easier to list all of the colors we don't 🙂 We can do different color combinations on request and love helping teen's customize their look!